September 20, 2016, 5:07 pm
Former Texas Governor and Presidential hopeful Rick Perry danced his heart out on Dancing with the Stars. A friend on Facebook said,"May you forever be as happy as Rick Perry."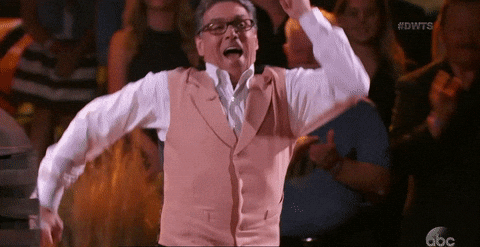 Governor Perry boasts a conservative record that puts other politicians to shame. He's a good man. A great politician. And, it seems, a struggling dancer. I can't watch. No. I have too much respect for this man. Noooo, I can't look away.
I don't watch DWTS because the show is about a bunch of people who can't dance, being humiliated while learning to dance, and it culminates in a popularity contest at the end. It's like everything bad about High School mashed together in one hideous show. Sometimes, though, a sweet conservative person has the guts to go on the show and does a great job. Sadie Robertson and Bristol Palin, for example:

These girls were brave and beautiful.
Back to Rick Perry. Watching him on DWTS is too awkward and painful. He's bigger than this and it seems demeaning to see him scooting across the dance floor.
My opinion is probably in the minority. I've seen others say that he's doing this to get more name recognition among the vast swaths of Americans who don't care about their government but do care about bad actors dancing.
Is this what we've come to, America? Must a political virtuoso thoroughly humiliate himself to prove that he's just like you? Don't we want more from our politicians? Have we lost our dignity completely?
It just occurred to me that my reaction might make me an "elite." Well, I can't help it. Dancing should be left to the professionals. If that makes me an elitist, I'll just have to live with it.
Screenshot, DWTS