My MAGA review of 2017, the year America became great again, continues today with a day-by day look at April.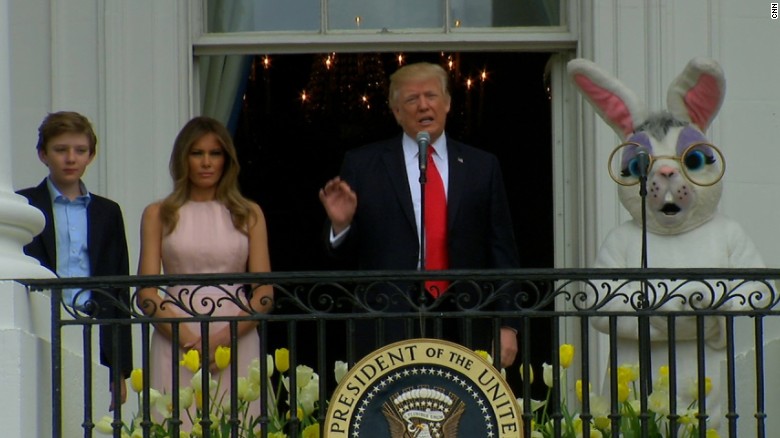 April 1: "Together, 27 White House officials had assets worth at least $2.3 billion when they joined the administration."
Most of them took pay cuts to serve America.
Meanwhile, Obama signed a $60 million book deal to MOGA — Make Obama Greedy Again.
GOOD.

April 2: The richest man in the world got a taste of his "Democracy Dies in Darkness" politics last night as hundreds of gay protesters hit the streets near his mansion in the Kalorama neighborhood of Washington, which is one of the wealthiest neighborhoods in the world.
They went to protest at Ivanka Trump's home. She and her family were in New York visiting relatives. I trust Bezos enjoyed the disruption.
GOOD.

April 3:
Newt Gingrich, the former House Speaker and presidential candidate, said Sunday that the evidence of collusion with Russia points to Democrats, not Republicans.
"It is ironic that all of the real evidence of real money and real influence-buying relates to Democrats," Gingrich told Fox News' "Sunday Morning Futures with Maria Bartiromo."
Heavy meddle music plays in the background.
GOOD.

April 4: "CNN Had a Problem. Donald Trump Solved It."
Make Corporate Shills For Saddam Hussein Great Again. Sigh.
EVIL.
April 5: "Shia LaBeouf Thriller 'Man Down' Sells Just One Ticket at U.K. Box Office."
Feud with Trump, lose.
GOOD.

April 6: "The United States fired 59 Tomahawk cruise missiles at Syria overnight in response to what it believes was a chemical weapons attack that killed more than 100 people."
President Trump did this over dinner with Chairman Xi at Mar-a-Lago. Ho-Ree Sheet.
GOOD.

April 7: "Judge Neil M. Gorsuch was confirmed by the Senate on Friday to become the 113th justice of the Supreme Court, capping a political brawl that lasted for more than a year and tested constitutional norms inside the Capitol's fraying upper chamber."
Which is better? Liberal tears or Never Trump tears?
Trick question. They are the same.
GOOD.
April 8: "PolitiFact Pulls 2014 'Mostly True' Rating of John Kerry's Claim of Eliminating Syrian Chemical Weapons."
Actually, it said "you can keep your doctor" was true before it voted it Lie of the Year five years later.
EVIL.

April 9: "Dems winning fight over wall."
Five months later, contractors began building prototypes — 30 feet high.
GOOD.

April 10: "The Kremlin said on Monday that U.S. Secretary of State Rex Tillerson will not meet President Vladimir Putin when he visits Moscow on Wednesday, a move that could point to tensions over a U.S. missile attack on a Syrian air base last week."
Don't know which Trump sucks at worse — being Hitler or being Putin's puppet.
GOOD.

April 11: "Bill O'Reilly Is Going on Vacation. Will His Show Return?"
No.
GOOD.

April 12: "The unemployment rate was 4.5 percent in March 2017. The last time the unemployment rate was 4.5 percent was during the first half of 2007."
In three months, Trump did what Obama was unable to do in eight years.
GOOD.

April 13: "The U.S. dropped a bomb with an explosive force equal to 11 tons of TNT on a cave complex used by the Afghanistan branch of the Islamic State of Iraq and Syria on Thursday, the Pentagon said."
The Mother Of All Bombs was dropped on my mother's 93rd birthday.
Winning!
GOOD.
April 14: "Democratic lawmaker on voucher-bill sponsor: 'I wanted to punch her in the throat'."
The war on women continues.
EVIL.
April 15: Democrats celebrate Tax Day.
Republicans mourn.
EVIL.

April 16: "Immigration arrests rose 32.6 percent in the first weeks of the Trump administration, with newly empowered federal agents intensifying their pursuit of not just undocumented immigrants with criminal records, but also thousands of illegal immigrants who have been otherwise law-abiding."
Otherwise law-abiding bank robbers have the same complaint.
GOOD.

April 17: "Kellyanne Conway on Monday chalked up a fresh wave of protests directed at President Donald Trump over the weekend, some of which turned violent, as attempts by stubborn liberals to relitigate last year's presidential election. It should fall to the leaders of the Democratic Party, the counselor to the president said, to quell the violence that has marred some anti-Trump demonstrations."
Marred some? Ah, Politico — the Democratic Party ho.
EVIL.
April 18: "First protected DREAMer is deported under Trump."
His amnesty had expired in August 2015. He was caught trying to re-enter the United States.
But otherwise, he is law abiding.
GOOD.

April 19: "An illegal immigrant, along with another man, is accused of kidnapping and repeatedly raping a woman with autism while holding her against her will."
But otherwise, he is law abiding.
EVIL.

April 20: "CNN: 'Sources: US prepares charges to seek arrest of WikiLeaks' Julian Assange.'"
Sources? When you stop taking the meds, the voices in your head return.
EVIL.

April 21: "Second parchment copy of Declaration of Independence found — in England."
Well, that was where the Founding Fathers sent the letter.
GOOD.
April 22: "President Trump will hold a rally in Pennsylvania the night of the White House Correspondents Dinner, he said Saturday."
He went where the votes are.
GOOD.
April 23: "The proposed wall along the U.S.-Mexico border could be paid for by reducing erroneously issued tax credits that go to "mostly Mexicans," said Attorney General Jeff Sessions on Sunday."
Erroneously paid? That's how it was set up.
GOOD.
April 24: "El Chapo Complains About Conditions at Manhattan Jail."
People in hell want ice water.
GOOD.

April 25: "Senator Ted Cruz wants to use assets seized from drug lords such as El Chapo, the Mexican kingpin who was recently extradited to the U.S., to pay for border security and the border wall."
$14 billion. El Chapo was richer than Trump.
GOOD.
April 26: "Isis faces exodus of foreign fighters as its 'caliphate' crumbles."
A new sheriff sweeps clean.
GOOD.

April 27: "Massachusetts Senator Elizabeth Warren gently criticized former president Barack Obama Thursday for his decision to accept $400,000 from a Wall Street firm to speak at a health care conference this fall."
Hillary has the sadz. They only paid her $250,000 per performance.
EVIL.

April 28: "Ohio Gov. John Kasich, a former Republican presidential candidate, said Friday that President Trump ought to 'eradicate' North Korean leader Kim Jong Un and his top lieutenants in a surgical military strike designed to give rise to a more benign leadership in Pyongyang."
Hillary wasn't the only bullet we dodged in 2016.
EVIL.
April 29: "Baltimore prosecutors told to consider consequences for prosecuting illegal immigrants for minor crimes."
Otherwise law-abiding people no longer have to obey laws in Baltimore, the wackiest city on Earth.
EVIL.

April 30: "Donald Trump on whether he could start war with North Korea: 'I don't know.  I mean, we'll see'."
Keep Rocket Man guessing.
GOOD.
Final score: GOOD 20, EVIL 10.