September 7, 2011, 1:35 pm
Here is an eye-opening headline from today's "ClimateWire". 5. SOLAR: PV electricity may be competitive in Italy in 2013 as Greece eyes €20B boost (subscription required; amusingly, the next headline harkens back to a host of somewhat different headlines from the past… three weeks… of the solar bubble bursting here, 6. RENEWABLE ENERGY: Solar industry undergoes more reshuffling).
Even if you know nothing about the renewables boondoggle, surely you know about Greece. And how Obama called Spain's Socialist PM telling them to stop the debt or they'd be the next Greece, which per this headline seems to be trying to become the next Spain whose Greek-like debt was incurred in material part by an Obama-style renewabbubble. Got that?
Now first, for a little fun with such people seeking to keep a gravy train flowing from the taxpayer to their schemes, a history of such claims — hint: it's always been just a few years or decades away, and always will be — can be found courtesy of IER here. In short, Jimmy Carter said the same thing, or very close to it.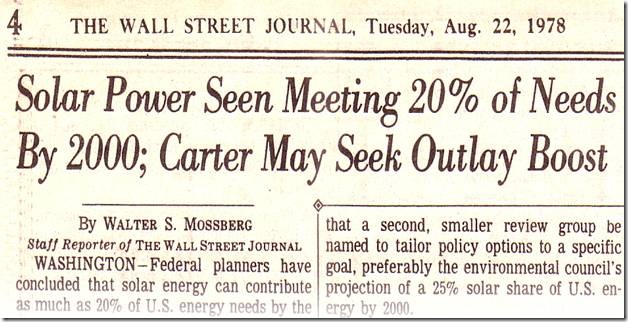 Now, given solar is not only highly expensive because it is highly inefficient compared to hydrocarbons,, what would relying on it mean?
Fans of Detective Montalbano may wish to try Google Maps to identify the TV series' charming location of his apartment, but prepare yourself for the area which they wisely do not show you. Enter "punta secca sicily". Zoom in or out as you like. Yes. that's solar in Italy.
Yikes, to say the least. There's your solar future. If you live in the Mediterranean. I'm not sure how the rest of you will manage, or what will back up the solar (or wind) when the sun doesn't shine (or wind doesn't blow) sufficiently to allow that carpet to run your economy.