Special Report
Ending the Economic Error
If Barack Obama is allowed to "finished what he started," government dependency is all that we'll have left.
Barack Obama and his supporters at the Democratic National Convention will mostly avoid the topic of unemployment, as unfavorable a subject as that is for Democrats' reelection chances. Still, we will inevitably hear a mantra like "the trend is in the right direction even if slower than we'd like" as an argument to give Barack Obama another four years so he can "finish what he started."
Beside the illogic of suggesting we give a failure four more years to fail further, one approach to unemployment data offers a very different lesson from the positive spin Democrats will give it.
In particular, the Obama team wants you to look at this chart, showing his entire term thus far, hoping that you focus on the modestly declining unemployment rate over the past 20 months.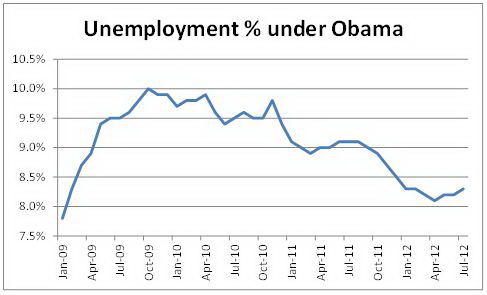 Instead, I offer a tale of two time periods, as shown in the next two charts. The first is from Obama's inauguration month, January 2009, to the month that includes the subsequent federal elections, November 2010, when Republicans took control of the House of Representatives and ended the Democrats' filibuster-proof majority in the Senate.
The second chart starts in November 2010 and continues through the end of July 2012, the most current data at the time of this writing. It is also worth noting that the election of 2010 all but guaranteed that the Bush tax cuts would be extended, as happened just one month later despite President Obama's saying that he was "sympathetic to those who prefer a fight over compromise…"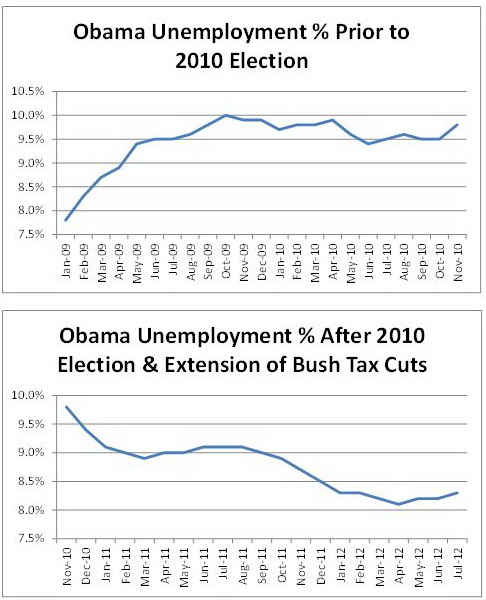 In short, the unemployment data does not show a president whose policies are finally gaining a foothold and need a little more time to work, but rather an unemployment rate that only stopped increasing after American voters took away President Obama's ability, with then-Speaker of the House Nancy Pelosi and Senate Majority Leader Harry Reid, to shove more doomed-to-fail Keynesian economic policy down our throats.
Unfortunately, before the American electorate could remedy their 2008 error, these politicians -- combining radical leftist views with complete economic ignorance -- wasted over a trillion dollars (if you include interest costs) on "stimulus" and passed Obamacare (which a majority of Americans still want repealed), the latter being thought by some analysts as the single biggest drag on American employment, with other federal regulation not far behind.
Democrats, including the president himself, in a remarkable combination of political masochism and narcissism, occasionally compare Barack Obama to Ronald Reagan. They are not fooling anybody but themselves and MSNBC employees. But as long as they want to go down that road, let's accompany them, comparing the path of unemployment and employment under The One versus the path under The Gipper.
Ronald Reagan "inherited" a worse situation than Barack Obama did, with Jimmy Carter leaving behind -- the way moronic pranksters leave a burning bag of a particular substance on an unlucky neighbor's porch -- nearly 15 percent inflation and 20 percent interest rates. Sometimes you have no choice but to step in it because the fire danger is worse than the inevitable stench. Complaining about the delinquents -- the way President Obama daily blames George W. Bush -- is a waste of time when you should be trying to make sure your house doesn't burn down (and then how to clean your shoe.)
The unpleasant but necessary action required to stamp out Carter's inflationary fires led to unemployment peaking late in Reagan's second year in office as compared to late in Obama's first year; in other words, Obama's policies have had longer to gain traction following the peak in unemployment than Reagan had going into his re-election. Nevertheless, Reagan's economic performance by this time in his presidency was far better than Obama's.
If you want to understand the impact of Reagan's pro-growth policy versus Obama's no-growth policy, look at how jobs recovered once unemployment peaked. Under Obama, during the 33 months between when unemployment peaked at 10 percent and the July prior to his reelection attempt, it has fallen only 1.7 percent, leaving the rate 0.5 percent higher than when he took office. In only 20 months between when unemployment peaked under Reagan at 10.8 percent and the July prior to his reelection, unemployment plunged 3.3 percent, twice as much as it has fallen under Obama, to the same rate as during Dutch's first month in office.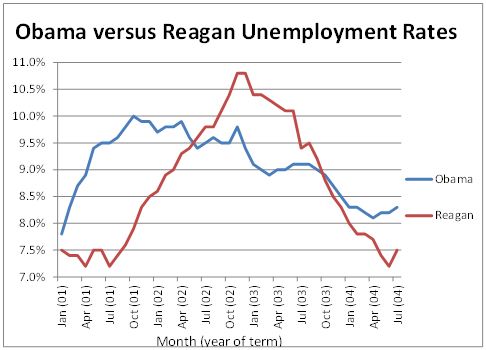 Over the rest of Reagan's presidency, unemployment fell to 5.3 percent. Does anybody who has watched the results of the current administration think anything vaguely resembling that would be our fate if we re-elect the Alinsky-inspired community organizer cum brewer and his tax-cheat Secretary of the Treasury to "finish what they started"?
But even this analysis understates the success of Reagan's policies -- and how foolish Democrats are to raise the comparison -- because the reported unemployment rate under Barack Obama has been held down by a dramatic drop in the civilian labor force participation rate. The most common unemployment statistics only include people (over 16 years old, neither in prison nor in the military) who are counted as being the labor force, i.e. who either have jobs or are actively seeking jobs. People who have given up looking for work (or whom the government categorizes as having given up) do not count as unemployed even though many or most of them would take jobs if they could find them.
In the first month of Reagan's presidency, the participation rate was 63.9 percent. In July of his fourth year in office, it had risen to 64.4 percent. Meanwhile, over the same period during Barack Obama's term in office, the participation rate dropped from 65.7 percent to 63.7 percent. Reagan was creating optimism while Obama has created surrender and dependency.
In other words, because the labor force participation rate dropped under Barack Obama, the current unemployment rate understates the number of people who have lost jobs during his presidency. And even with this advantage, Obama is presiding over a higher unemployment rate than when he took office. Conversely, because the participation rate rose under Reagan, his unemployment rate understates the number of people who got jobs during an analogous time period.
Therefore, it makes sense, rather than looking just at the unemployment rate, to look at actual employment data. Using numbers from the Bureau of Labor Statistics, I have created a chart of the percentage change of the actual number of non-farm jobs in the U.S. during the first 43 months of the Reagan and Obama presidencies.
The difference between the two is dramatic: After more than 3½ years of Barack Obama being in office, there are fewer jobs in America today than there were when he was inaugurated. During the same period of Ronald Reagan's presidency, the number of jobs in America grew by more than four percent, despite unemployment having hit its peak more than a year later into his first term.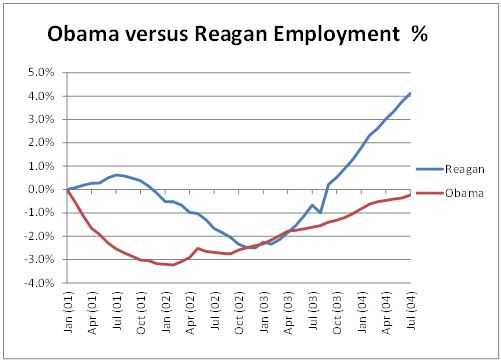 Other statistics point to the utter failure of Barack Obama's economic policies and how self-destructively foolish it would be for Americans to give him a second term, to "finish what he started":
• Median annual household income has plummeted far more during the Obama presidency, including after the official end of the recession, than it did during the Bush years, according to Sentier Research.
• When campaigning for president in 20007, Barack Obama called the roughly $3.75 trillion of national debt accumulated in just under eight years of the George W. Bush presidency "unpatriotic" and "irresponsible." (And he was right.) Yet Barack Obama has added about $5.5 trillion, almost 50 percent more than Bush did, to our national debt in half the time. Our national debt now exceeds $16 trillion...and exceeds our GDP. Our national debt to GDP ratio is now similar to those of Ireland and Portugal.
• Record-high food stamp use, with Fiscal Year 2011 spending on the program of almost $72 billion, more than double the level of just three years earlier.
• As noted by Robert Rector of the Heritage Foundation whom I spoke with for this article, "According to government statistics, over 100 million Americans now receive some sort of means-tested welfare benefit [which excludes Social Security and Medicare] each month, nearly one third of the American population. President Obama seeks to increase this type of spending even after the recession ends."
• The Associated Press has reported that poverty levels in America are soon to reach a 46-year high, and that "demographers also say [that] poverty will remain above the pre-recession level of 12.5 percent for many more years." Heritage's Rector makes a compelling case that by "excluding 97 percent of all welfare benefits when counting 'income,'" the Census Bureau massively overstates poverty in America -- playing right into the hands of those who aim to increase the welfare state. However, these statistics do point to a dramatic decline in American self-sufficiency and corresponding increase in dependency. Welfare has well-understood employment and income disincentive effects: As Mr. Rector noted, increasing transfer payments to the poor paradoxically and sadly increases their likelihood of staying poor -- and remaining dependent on government, which is the real motivation of Barack Obama and the Democratic Party.
If Barack Obama actually gets to finish what he started, there won't be a single American not on the government dole.
August employment data will be released on Friday, just in time to offer the latest off-key economic note less than twelve hours after Barack Obama sings a siren song from Charlotte claiming that we're on the right track, that a bet on him "is paying off."
While few will believe Obama's claim to have helped the economy or that he will be able to help it in the future, Republicans must make clearer that the reason we're not facing even more dire economic circumstances is that American voters partially undid their 2008 mistake in 2010. In 2012, it is time to undo the rest of our ill-fated experiment with Alinskyite socialism and economic ignorance and finally bring on the "end of an error."