Israel is Supposed to Make Peace With This?
H/T Weasel Zippers, as reported by Palestinian Media Watch
Never will I understand why American Jews wax sympathetic about Palestinians or about presidents (of both parties, but mostly Democrats) who try to force Israel to make peace with an intractable, brutal, suicidal and homicidal enemy.
The US should withhold a substantial amount of aid from the Palestinians until this sort of behavior stops (not that I think we should be aiding them at all.)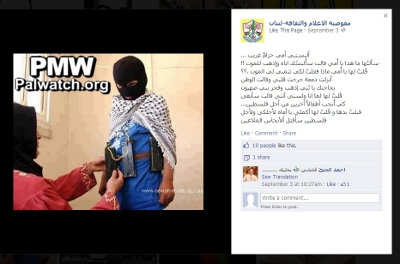 If there were ever a valid argument for forced sterilzation, this is it, though I think a high-speed lead injection would be more appropriate for this mother and, sadly, soon for her brainwashed son before he murders innocents.
http://palwatch.org/main.aspx?fi=157&doc_id=7704
Note: I have not been able to find the posting on the Facebook page described in the article. I assume that the maniacs have taken it down...